Community Aquatic Monitoring Program (CAMP)
Introduction
The Community Aquatic Monitoring Program (CAMP) offers guidance for environmental community groups monitoring the health of their local watershed. Through monitoring methods established by the Department of Fisheries and Oceans (DFO), community groups are conducting a science-based program with the intent to examine the health of bays and estuaries throughout the Gulf Region.
Details
Each summer, environmental community groups collect important data to determine if groupings of fish, shrimp and crab – what is called a community- can be used as an indicator of the health status of bays and estuaries. From June through August, community group members and staff sample six stations once a month in their designated estuary.
Fish, shrimps and crabs are collected with a beach seine net and later released live back to the water once identified and counted. From this, the community groups provide important information to DFO, including:
identification and numbers of fish, shrimp and crab species;
water conditions and samples;
information on aquatic plants;
sediment samples.
With this information, DFO scientists working with government agencies and universities can conduct analyses to determine the suitability of indicators to assess the health of bays and estuaries.
In the Gulf Region
CAMP research takes place from northeastern New Brunswick to Cheticamp, Nova Scotia and all around Prince Edward Island. Partnerships with community groups, First Nations, universities, government agencies and volunteers are fundamental to the ongoing success of this program.
DFO scientists coordinate data collection and analysis. DFO also provides training as well as some of the materials needed for gathering samples, including nets and meters.
Training
As part of the CAMP program, participants learn how to identify species of fish and aquatic plants, apply research methods and use scientific equipment.
DFO coordinates both classroom and field training for the volunteers. The Southern Gulf of St. Lawrence Coalition on Sustainability coordinates the sampling season and provides staff to help the community groups conduct the sampling at each location, while DFO staff maintains quality control.
For more information
Since its launch in 2004, CAMP has become an important long-term monitoring program which provides data to help DFO develop tools to evaluate the health of the aquatic environment.
For further information on the CAMP program, including training and reports, please contact the DFO CAMP coordinator in Moncton at 506-851-6727 or by e-mail at camp-psca@dfo-mpo.gc.ca.
Disclaimer: DFO does not assume any responsibility for the quality of information, products or services listed in the website provided above. Users should also be aware that information from external sources is available only in the language in which it was provided.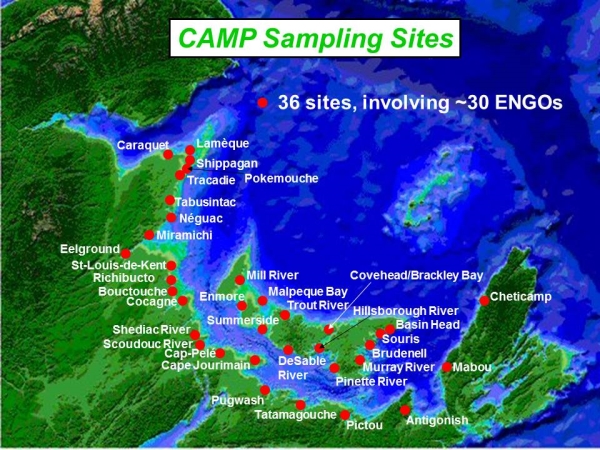 Description for map
Map of the Gulf Region with the provinces of New Brunswick, Prince Edward Island and Nova Scotia. There are 36 Community Aquatic Monitoring Program sampling sites:
New Brunswick

Caraquet
Lamèque
Shippagan
Tracadie
Pokemouche
Tabusintac
Néguac
Miramichi
Eelground
St-Louis-de-Kent
Richibucto
Bouctouche
Cocagne
Shediac River
Scoudouc River
Cap-Pelé
Cap Jourimain

Nova Scotia

Chéticamp
Pugwash
Tatamagouche
Pictou
Antigonish
Mabou

Prince Edward Island

Mill River
Malpeque River
Trout River
Covehead/Brackley Bay
Hillsborough River
Basin Head
Souris
Brudenell
Murray River
Pinette River
DeSable River
Summerside
Enmore